Description
Emergency Immune Support with Elderberry & Vitamin C
Emergency Immune Support is a new product aiming to assist the body to fight off viral infections and strengthen the immune system. It's a herbal remedy as Mother Nature intended. Below is an analysis of the product with the benefits that provides.
Emergency Immune Support – What is it?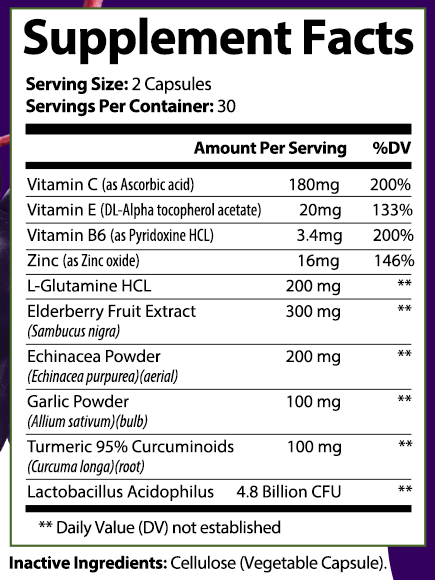 Emergency Immune Support is a dietary supplement distributed by FDM Health Formulations. It contains in a balanced way, 10 Vitamins, minerals and herbs that have been known for their anti-viral effect as well as their immune strengthening qualities such as Vitamin C, Zinc, Elderberry extract, Echinacea powder, garlic powder and more. It also includes Turmeric extract a well known natural anti-inflammatory herb.
The health benefits that Emergency Immune Support brings
Let's have a look at what it can be expected with your use of the Emergency Immune Support dietary supplement.
A boost in the immune system function
The carefully selected ingredients are some of the most well-known herbs being able to strengthen the immune function. It is expected that this product can help anyone who has a weak immune system.
Some of the ingredients also act as an immuno-modulator, balancing the immune system. This means that it helps to activate an overly suppressed immune system, while it also acts to calm an overactive immune system as well.
High antioxidant value / Strong ability to fight bacterial and viral infections
Elderberries and Vitamin C, included in this product together with the Turmeric extract act as strong antioxidants and are able to reduce the amount of present oxidative stress in the body, and with that, to lower the risk of a variety of possible health issues. Thanks to the high antioxidant levels found in Elderberries, they can reduce any present inflammation in the body.
Emergency Immune Support contains ingredients which are also famous for their anti-viral abilities. In the past, they have been some of the most used natural remedies to treat various infections – bacterial and viral ones. The contents of this supplement can also assist to lower inflammation.
Dosage and cautions
The Emergency Immune Support supplement is meant to be taken once per day – two capsules per dosage. There are 60 capsules, which are enough for one whole month. The capsule is supposed to be taken around 20 to 30 minutes before a meal for the best effects with a tall glass of water.
Pregnant and breastfeeding women are recommended to consult a medical professional before proceeding to use this or any other dietary supplement in general. Children under the age of 18 and individuals struggling with any health issues and/or medical history of one are required to talk to their doctor as well.
Please do not exceed the recommended dosage.